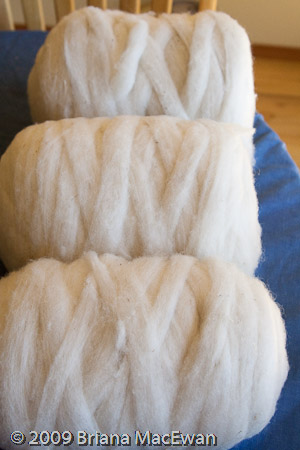 June Bug's roving.
Creamy White roving with very light spattering of brown/dark fibers mixed through. Slight bit of VM but very easy to work with. 100% Home Grown roving from June Bug. Super yummy, spins up easily.
Itch factor:
1-baby soft or for sensitive people
2-next to the skin soft
3-skin contact for non-sensitive people/some contact with skin
4-outer wear/socks may repel some water
5-outer wear or rug weaving.
This fleece is rated at a 2.
Sold by the bump.
9.5 oz-$27.00
9.5 oz-$27.00
10 oz-$28.50
8.5 oz-$24.20
9 oz-$25.65
9.25 oz-$26.35
8.25 oz-$23.50
Inquire about shipping costs.
Interested in this fiber but want it in hand spun yarn? Inquire about pricing for single or double ply hand spun.